Chicago has brought me a lot of good friends, many of whom are unbelievably talented. Below is a profile of one of them, Sola Akintunde, better known as Shala Esquire.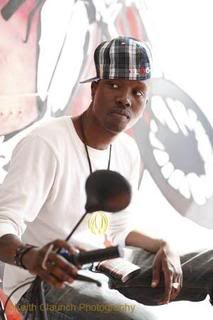 A Google search of
Shala Esquire
produces over 1,800 hits – very impressive, especially considering most of these links are actually about him, profiling his talent and work in the music and art worlds. Esquire embodies the can-do spirit indie culture and the Internet has instilled in the newest generation of creative souls.
Born Olusola Akintunde to Nigerian immigrant parents on Chicago's North Side, Esquire benefited from the diversity surrounding his Winthrop Towers home. His parents provided the young Esquire with an unique view that placed him in two opposing worlds—as a black Chicagoan and as a Nigerian. His foot firmly planted in both, Esquire learned how to see life's bigger picture at a young age. Growing up in a lower income family, he used his imagination to entertain himself, making toys, games and getting lost in a world of his own creation.
He would later learn the value of blurring the boundaries between these two worlds and using his imagination to make music. In high school, Esquire met the three friends who would later turn their love of beating on tables and rapping in the lunchroom into the dynamic rap group Qualo. Qualo put out their first CD, "Movementality," in 2000 on the streets and online. Out of Qualo came The Movement Worldwide, Inc, a management and multimedia production company Esquire built to "create a vehicle that could consistently showcase artists and Chicago talent." The collective includes a wide array of talented DJs and hip-hop acts including Million Dolla Mano, Hollywood Holt, Chuck Inglish of the Cool Kids and Low B. of DJ duo Hollertonix, selling more than 200,000 mixtapes, compilations, and albums in less than two years. In 2006, Esquire could add another feather to his cap: Qualo inked a joint venture deal with Universal Music Group.
In his eight years of work, Esquire has proven he is truly a renaissance man of the new order: a multimedia producer, rapper, songwriter, and artist (creator of the edgy and observant
Seven Spoon
comics which has developed a fan base of over 20,000 readers). Poised to rub elbows with the Diddys and the Russell Simmons of the world, Esquire represents the new generation of lifestyle and cultural moguls, showing the wide reach of the Internet as he continues to bring his genre bending music and whip-smart art to people across the world.
Listen or download his song Audacity of Hope by clicking this
link
.