I Am Chicago's second holiday gift guide is dedicated to mothers. I feel as though whether the mom on your gift list is a new mother or an empty nester, comfort is key when considering what gift to buy.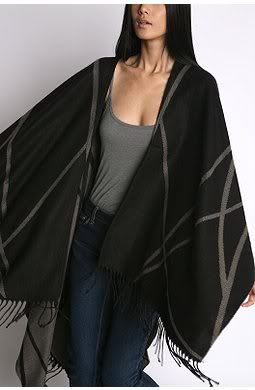 This large patterned cape from Urban Outfitters screams stylish comfort. Mom can wrap it over her shoulders and enjoy a cup of tea during her downtime or use it as a layering piece during these cooler months. It'll up your mom's cool quotient too if you tell her its from Urban Outfitters.
Patterned Cape, $24.99, Urban Outfitters.
Nothing is more relaxing then luxuriating in a tub after a long day. Get rid of the Walgreen's brand body soap and treat your mom to the good stuff: Fresh's triple milled pure vegetable soaps. The oval bars are packed with moisturizing shea butter (which is definitely necessary during the winter to keep sky from drying out from harsh weather) and smell delicious. Each is wrapped in lovely
Chinoiserie
paper and comes in a reusable box.
Oval Soap Trio II, $42, Fresh.
Who doesn't love cashmere? Treat your mom to a nice cashmere blend that will accentuate any outfit or act as a very fancy scarf.
Refined Silk-Cashmere Wrap, $75, J Crew
My mom works at a nursing home in Kansas City, MO. While I was driving her to work one day, she looked down at her hands and exclaimed, "My hands look like that of a farmer's wife!" She immediately reached into her work bag for lotion and worked it into her hands. To keep mom's hands from "farmer's wife" territory, get her this enriched hand cream made with rosewater and glycerin. An added bonus for environmentally conscious moms? The cream is free of animal byproducts and wasn't tested on any creatures, either. And it diminishes the appearance of sun damage. What's not to love?
Dr. Hunter Hand Creme, $12, Caswell-Masey